Welcome to Apple MG Parts online
Where Can I Find My Cars Paint Code?
You can find your cars paint code by looking for the VIN plate in the area of the drivers door frame. See below. The paint code is a three letter code at the bottom left of the VIN plate.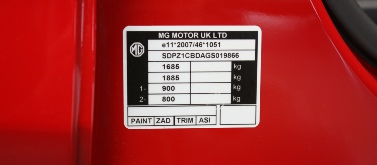 MG3 TOUCH UP PENCIL - Hello Yellow
Genuine MG3 touch up pencil. Contains base coat and clear coat.
Paint Code - YSA Hello Yellow
Price £15.00+£4.50p&p
Buy Now



©appledevelopments 2013-2016